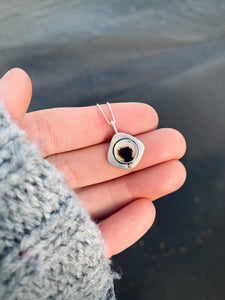 This sweet piece of dendritic agate resembles a fan coral that I've seen scuba diving around the world. The pendant has been made by reclaiming scrap silver. I melted down sterling silver scraps and then but some muscle into it as I hammered out the blob into a thick, lightly textured piece that I then shaped with a hand file. I've added a 14k reclaimed gold circle at the bottom.
Stone: Dendritic Agate
Metal: 100% recycled/reclaimed sterling silver and 14k gold circle
Chain length: 18 inches delicate sterling silver
Please note: Each piece is handcrafted with my own two hands. This means each piece is unique and each carries their own "imperfections". That being said, each piece is crafted with care and intention with excellent crafts(wo)manship. They are built to last and they are built to be lived in, fully.