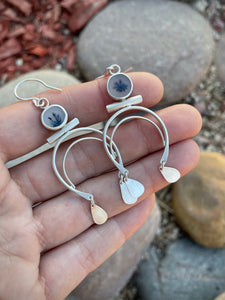 I'm always, always playing with shapes and it took me a while to finally land on this specific one. I love how they've come out and they are super light to wear. 

Stone: Dendritic Agate

Metal: 100% recycled sterling silver 
Please note: Each piece is handcrafted with my own two hands. This means each piece is unique and each carries their own "imperfections". That being said, each piece is crafted with care and intention with excellent crafts(wo)manship. They are built to last and they are built to be lived in, fully.