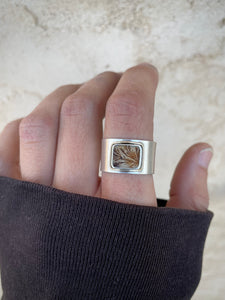 This stone is FULL of golden light. I've complimented the stone by wrapping it in the warm embrace of reclaimed 14k gold. I've created a deep dip on the backside of the ring so it's more comfortable to wear. 
This ring best fits size: 8.75-9
Sizing note: the "best fit" size accommodates for the width of the band and is my recommended size for this ring. It will fit you if you are a size 8.75-9 USA. 
Stone: Dendritic Agate
Metal: 100% recycled sterling silver and reclaimed 14k gold
Please note: Each piece is handcrafted with my own two hands. This means each piece is unique and each carries their own "imperfections". That being said, each piece is crafted with care and intention with excellent crafts(wo)manship. They are built to last and they are built to be lived in, fully.