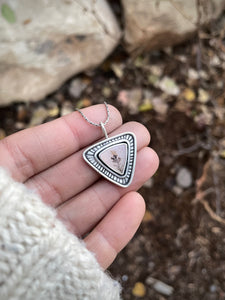 I adore the contrasts and textures of this piece! I first imagined it as a ring, but as I started to work on it, it seemed more fitting for a pendant. It's a darling stone, one that holds so much grace (hence the name!). 

Chain length: 18" sterling silver chain with a light patina

Stone: Dendritic Agate

Metal: 100% recycled sterling silver with reclaimed 14k gold 
Please note: Each piece is handcrafted with my own two hands. This means each piece is unique and each carries their own "imperfections". That being said, each piece is crafted with care and intention with excellent crafts(wo)manship. They are built to last and they are built to be lived in, fully.